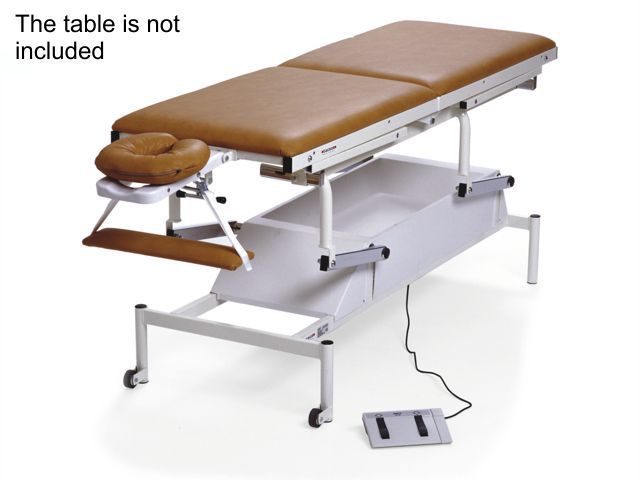 Electric chassis to portable tables
1994 the Swedish national World Cup Soccer team needed a stationary solution for their portable Tarsus massage tables when they where to go to the US World cup.

When they asked us about it, we developed our chassis.

The chassis enables the owner of a portable Tarsus table to have a stationary solution in a clinic, while using the same portable table when visiting a patient or during a game.

This solution, unique for Tarsus, makes a therapist very flexible.

Height adjustment
The chassis is available with hydraulic or electric height adjustment.

Chassis
All-welded powder-coated steel chassis, chromium-plated details. Very sturdy construction.

Which table can I mount on a chassis?
The chassis is made to work with all Tarsus portable tables regardless of width and model. The only exception is model LITE, which is too short. One can therefore have two different models or different widths, and still be able to mount any of the tables to the same chassis.

Castors
With the chassis is included a so called wheel-pair. The wheel-pair is a set of wheels welded just above the floor onto one of the short-end sides of the chassis. When lifting the opposite side of the chassis, the wheels hit the floor and you could roll away the chassis, whioch is practical while cleaning. As option Tarsus offers central locking castors or separately locking castors.
Sök reservdelar till denna produkt
Back